What I love about pizza is that I can make any combinations of toppings, any idea will work perfectly in the end. This time I used pork carnitas as my main ingredient and it came out excelent. Now pork carnitas is kind of like pulled pork but it is more lemony and spiced up and worked like a charm. The combination with Campari tomatoes, mozzarella and sundried olives instantly turned this pizza into a family favorite… well at least I loved it, but try my recipe and let me know how you like.
Start by using â…" of my Easy Pizza Dough Recipe and load it with your toppings.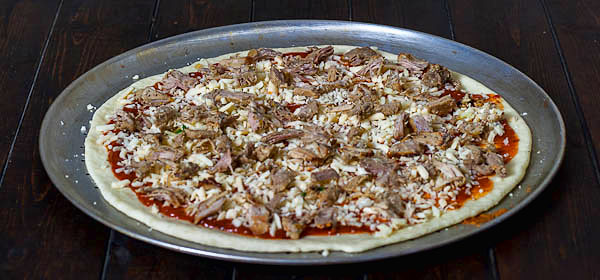 Bake it as usual for 10-15 minutes on high heat and enjoy.
[pureHTML ID=40]
Ingredients
â…" of Easy Pizza Dough Recipe
2oz (60g) Pork Carnitas
1oz (30g) mushrooms, chopped
½ cup Mozzarella, shredded
2oz (60g) sundried olives
2oz (60g) Campari sweet tomatoes, chopped
Pizza sauce at your discretion
Preparation Instructions
Flatten out â…" of Easy Pizza Dough Recipe and pour Pizza sauce over the entire surface; quantity is up to you.
Sprinkle shredded mozzarela, pork carnitas, chopped tomatoes, olives and mushrooms and bake for 10-15 minutes on high heat 500° F / 260° C.
Enjoy!