Well going back to my favorite baking recipes. Funny how I always end up making pizza but I definitely love it. Since I discovered how easy it is to make your own dough I have been pretty much on a roll, I love coming up with new ideas and new combinations, or even change some of the "classics" according to my taste. ( I was about to say my vision but it would have been too much lol)
Anyway, I love pizza, it's fast, delicious and you can pretty much use any kind of topping, no matter how weird. My "weird" this time is meatballs pizza.
I don't have a recipe for meatballs but you can make your own from whatever ingredients you like, I used pork and some spices, no biggie. The rest is pretty much the normal stuff, like mozzarella, pizza sauce, olives and red peppers. Check it out!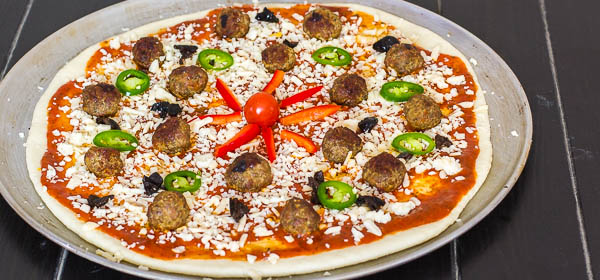 Fry your meatballs in a pan with some oil, or you can even bake them if you want and then start building your pizza. The other ingredients are pretty much for design, except jalapeno that really worked.
[pureHTML ID=40]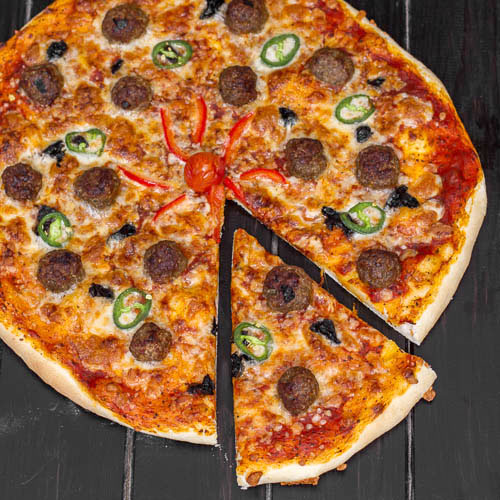 Ingredients
dozen meatballs or more
½ pizza dough from my recipe
½ cup pizza sauce
2 cups mozzarella cheese, shredded
4-5 olives, sliced
1 cherry tomato
1 jalapeno pepper, sliced
few slices red pepper
Preparation Instructions
Preheat oven to 500° F / 260° C
Roll out the pizza dough and place on a pizza baking pan, or a pizza stone.
Spread your sauce over the crust. Top with mozzarella cheese.
Add your meatballs and all other ingredients according to your own design. lol
Bake for 10 to 15 minutes or until cheese is bubbly and crust is golden brown.