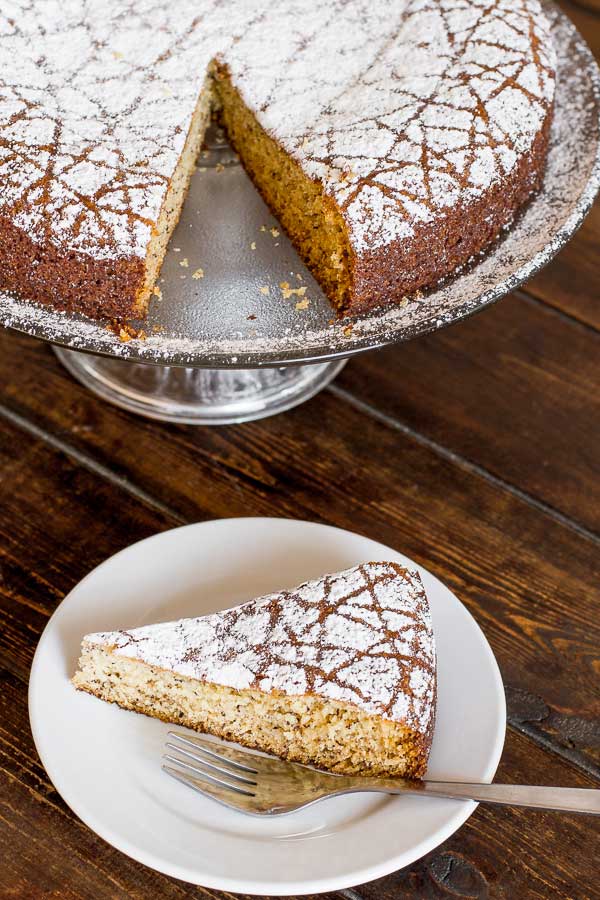 Banana bread is one of those things that I like to have on my breakfast table every morning. We have our own basic recipe, something that we make pretty often and works best with those over ripened bananas that nobody wants to eat anymore. Here we wanted to change it a little bit and turned the whole thing into a cake but if you compare this recipe with our banana bread, then you will notice only a small difference, the lack of sour cream. It would make your banana cake more firm and a bit crumbly but we wanted something with less moisture than our previous recipe and it really worked.
Anything else is just a matter of design/composition and you can definitely use your imagination in this respect. Chocolate syrup or caramel come to mind, but I wouldn't dismiss whipped cream either or even some fruits, your choice. Looking forward to seeing your own combinations. Enjoy!
Ingredients
1½ cups all purpose flour
¾ cup sugar
1 tsp baking soda
1 tsp baking powder
2 large ripe bananas
5 tablespoons heavy cream
1 large egg
4 (½ stick) tablespoons melted butter
1 tsp vanilla extract
Preparation Instructions
Preheat oven to 350° F / 175° C
In a large bowl mix flour, sugar, baking soda and baking powder together until well combined.
Use a fork to mash the bananas. Mash well, do not leave chunks. Do not use a mixer.
In a medium size bowl, combine mashed bananas, cream, egg, melted butter and vanilla. Stir until well blended.
Make a well in the center of the flour and pour in banana mixture. Mix in the flour so that it is gradually incorporated into banana mixture. It will be thick.
Grease a 9-inch (1½ inches deep) cake pan and pour in cake mixture. Spread evenly.
Bake on middle rack of the oven for 40 minutes or until a wooden pick inserted near the center comes out clean.