Not many desserts on my blog, baking pies and cakes is not really my thing, but this recipe is a nice variation from my regular pizza convention. This cute dessert idea came from my sister because she loves sweets and bakes something pretty much every day (crazy, I know!). The recipe itself does not require any weird ingredients, you will definitely have everything already in your pantry and the baking process, it's so easy, even I could do it and I don't like baking pies and cakes that much.
Initially, recipe asked for walnuts but I like pecans better and this is what I used. The difference should be minimal, my main reason was that I don't really like walnuts, they taste different, they seem to be bitter. Anyway, pecans, sugar, flour and a little bit of butter and you are set. You mix everything together and throw it inside an 8″ springform pan and "Bob's your uncle".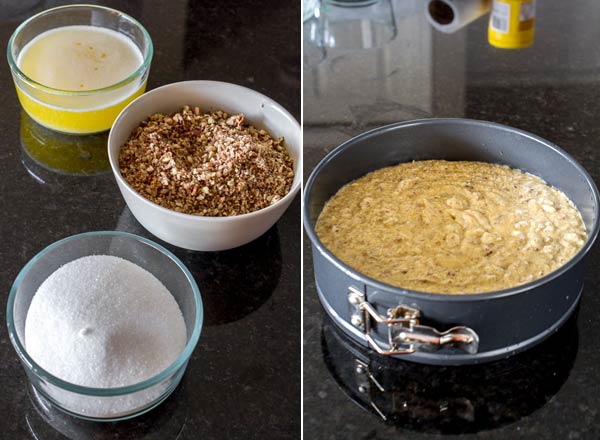 I had a bit of trouble melting white chocolate but wife saved me, added a bit of butter to it which is what you have to do to the dark chocolate as well in case you are using baker's kind. When you melt it, cut a little cube of butter and drop it inside the pan, it will make the chocolate a bit smoother and easier to cut the cake after it is hardened. You bake it on 350° F / 175° C for 40-45 minutes or if your oven sucks, do the toothpick test. If you don't know the toothpick test, get out of the kitchen lol.
After baking, spread the melted dark chocolate the way you want it (the more, the better) and using a fork, drizzle melted white chocolate over the top, for design purposes. Unfortunately, you have to refrigerate it for few hours but after that you are good to go. It is a simple dessert that works just fine with some fruits next to it as well, use your imagination. Enjoy!
Ingredients
For batter

4 eggs
8oz or 2 sticks (230g) butter, softened
7oz (200g) pecans or walnuts, coarsely chopped (not too fine though)
7oz (200g) granulated sugar
3 tbsp flour

For glaze

4oz (100g) dark chocolate
2oz (50g) white chocolate
1-2 tsp butter to soften the chocolate if needed
few pecans halves
fruits (optional)
Preparation Instructions
Chop pecans using an electric chopper or whatever you have on hand but don't do it too fine.
Mix butter and sugar extremely well, then add eggs, one by one while still mixing, pecans/walnuts; add flour.
Mix everything until well incorporated then pour the batter in the springform pan.
Bake in a preheated oven at 350° F / 175° C for 40-45 minute or until the toothpick comes out clear.
Remove from oven and let cool until you finish the chocolate.
Separately melt the dark and white chocolate ( add a tsp of butter to it if you're using baker's chocolate).
Pour the dark chocolate over the top of your cake, evenly spread, then drizzle with a fork a bit of white chocolate over, for good looks.
Refrigerate until chocolate hardens and then you can enjoy!