Remember those big, fat pretzels that you can only find at the mall and maybe during certain holidays? I don't know if everybody likes them but personally, I am totally addicted to them. Unfortunately I don't really like going to malls which means no pretzels for me, except maybe during summer when is Stampede time here in Calgary… lots of pretzels then. Anyway, I tried a bunch of pretzel recipes so far and for some reason they don't come out the way I want, sometimes I don't like their taste but more often they look like… not a pretzel. lol In the end I gave up on shaping techniques and focused more on the preparation, as you would probably already know, they need to be boiled in water with baking soda and brushed with egg and whatnot, a process way to long for my lack of patience; I just want to enjoy them as fast as I can and as hot as possible.
Now, this recipe is the fastest thing ever which means you can keep making pretzels basically everyday with the least amount of mess in your kitchen… and effort. I didn't bother with weird shapes, I just made them round and honestly if my picture don't make you want to try them then I don't know what will.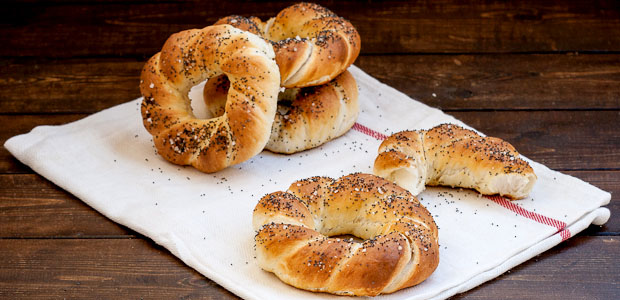 [pureHTML ID=40]
Ingredients
2½ cups all purpose flour
½ tsp sea salt
1 tsp sugar
1 tbsp active dry yeast
1 cup warm water
½ cup warm water (for pretzel dipping)
1 tbsp baking soda
coarse sea salt, for sprinkling
poppy seeds (optional)
Preparation Instructions
In a medium size bowl, mix 1 cup of water with the yeast and sugar. Let it sit and rest for about 10 minutes until yeast dissolves and it becomes foamy.
In the bowl of your mixer, mix the flour and salt together. Add the yeast mixture to it and using the hook attachment, mix until the dough is soft but no longer sticky. Add additional flour if needed.
Place the dough in an oiled bowl and cover with plastic wrap. Let the dough rest for about an hour or until it doubles in size.
Preheat oven to 450° F / 230° C. Prepare a cookie sheet with parchment paper.
In a medium bowl add ½ cup warm water and 1tbsp baking soda and microwave it for 1 minute.
Cut the dough into 8 pieces. Roll each piece into a long 2 foot (60cm) rope. Fold the rope in two and twist it, then bring the ends together and pinch them to connect the rope.
Dip the pretzel in the baking soda water on both side for few seconds and place on the cookie sheet. Repeat with remaining pieces.
Sprinkle with coarse sea salt and/or poppy seeds. Let the pretzels rest for 10 minutes.
Bake pretzels for 10 to 15 minutes or until golden brown.