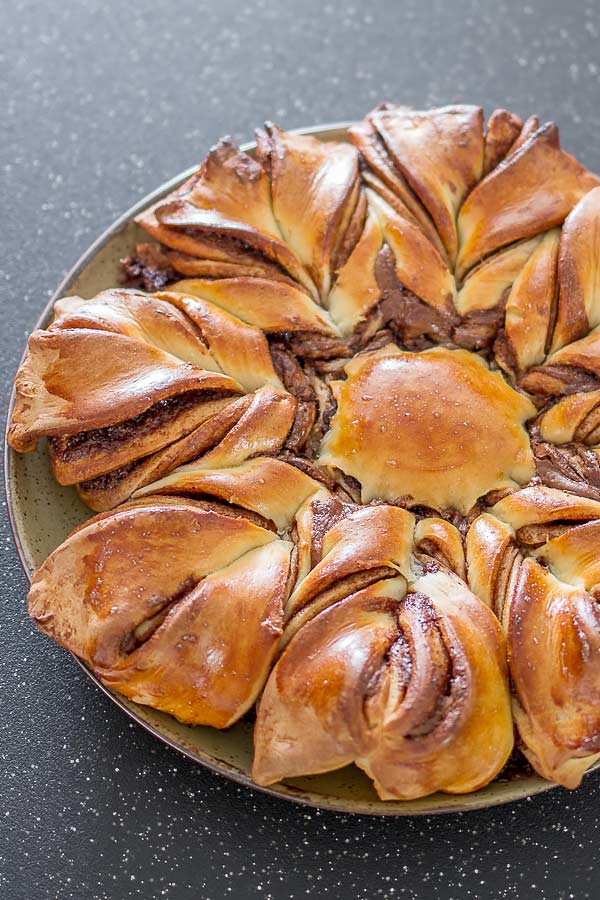 I am not going to say I did this complicated thing all by myself. Unfortunately my baking patience is very limited and when it comes to little things that need to be done in order, at specific times and with infinite attention, I think I would rather fix a clock, if you know what I mean. Several times I had to ask for help from my resident celebrity chef and thankfully I managed to get it done and now when I look back, I don't think it was that bad or maybe it is Nutella speaking here, it tends to give you a more optimistic perspective of things.
Anyway, these are the voyages… sorry, wrong idea. These are the step pictures that might give you an idea of what to expect and how to do things in order to make this awesome dessert and though 99% of you will just look and imagine how good this thing might have been, the other 1% will actually make it and enjoy it at least as much as we did around here… and few neighbors as well.
Now, if you have questions, I will be happy to answer them but I don't think you will experience any weird things making this bread. If you are a woman, you will definitely be ok, 'cos you guys are annoyingly patient when it comes to making complicated desserts but, if you are a dude, forget it, don't even try it. I almost threw away the damn thing several times. Other than this simple advice, I hope you all enjoy this, for me it was an amazing experience of both taste and emotions, like… well, imagine something by yourself.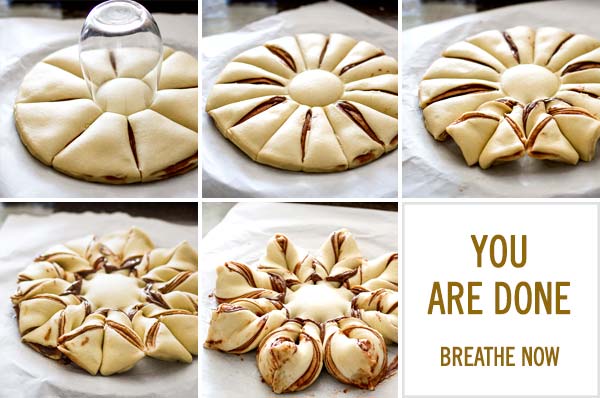 Nutella Twist Pull-Apart Bread
Ingredients
For the dough
500 g (16 oz) all-purpose flour
190 ml (6 fl oz) lukewarm milk
3 tbsp sugar
60 g (2 oz) melted butter
2 eggs
grated zest of a lemon
1 tsp salt
1 tsp dried yeast
Filling and glaze
Nutella or similar hazelnut chocolate paste
1 tbsp milk + 1 tbsp water for a glaze
Icing sugar
Instructions
In a small bowl mix the yeast, sugar and milk and let it sit for 10 minutes until the yeast activates.
In another small bowl, beat the egg lightly.
In the bowl of your mixer, add the flour, salt and lemon zest and mix. Add butter, eggs and yeast mixture. Mix until it forms a soft dough. Continue mixing with the mixer for another 5 minutes, it should come clean off the sides of the bowl.
Place the dough in a lightly greased large bowl, cover it with plastic wrap or a damp towel and leave it in a warm place until it doubles in size, should take 1 to 2 hours.
Line a round 14 inch pizza baking pan with parchment paper. If you don't have a pizza baking pan, a large cookie sheet will do.
Once the dough has doubled in size, turn it over onto your work surface and punch it down a couple times. Divide the dough into 4 equal pieces and shape each one into a ball.
Roll each ball of dough into a circle that measures 13 inches (30 cm) in diameter. The dough should be about ⅛ in (3-4 mm) in thickness. Using a 12 inch lid make an imprint in the dough. Inside this imprint is where you spread a layer of Nutella, making sure to leave the gap at the edge, outside the imprint, free of Nutella. Don't add too much Nutella but make sure you evenly cover the dough. Place this circle in the middle of the pizza baking pan.
Roll out a second ball of dough, and follow the previous step instruction. Place this circle on top of the previous circle. Repeat with remaining dough balls, but do NOT spread any Nutella on the final layer.
Place the lid on top of your stack of layers and using a sharp knife, gently cut off the edges of the dough. Place a small glass in the middle of the circle, a glass that's about 2 inches in diameter.
Equally cut the dough into 15 segments. It's easier to cut it in quarters first, then each quarter in half, then in half again, as you can see in the above pictures.
Take a pair of adjacent segments. Lift and twist them away from each other through 180°. Lift and twist through 180° again, then twist through 90° so that the ends are vertical. Press the edges together firmly. Repeat this process for all pairs of segments.
Place the brioche in a large plastic bag or cover with lightly oiled film. Leave in a warm place for 1-2 hours to prove.
Brush with the glaze then bake at 180°C/360°F for 20-25 minutes.
Place the bread on a wire rack to cool. Once cooled, dust lightly with icing sugar, if preferred.