Back in the day, when we were still buying pizza from various places around home, I used to order these cheese bread-sticks made from the same pizza crust and loaded with cheese. We really liked them but if you want to make them yourself, it is a very simple thing, just use my pizza recipe, load it up with insane amounts of cheese and enjoy. However, this recipe is not that, wife came with the great idea of replacing the normal pizza crust with something made from cauliflower which I personally don't care much about but I am always open to new things so we made it. Thing came out AMAZING but then again, in our kitchen, everything does. No seriously, taste wise, it is way out there and it is also very easy to make.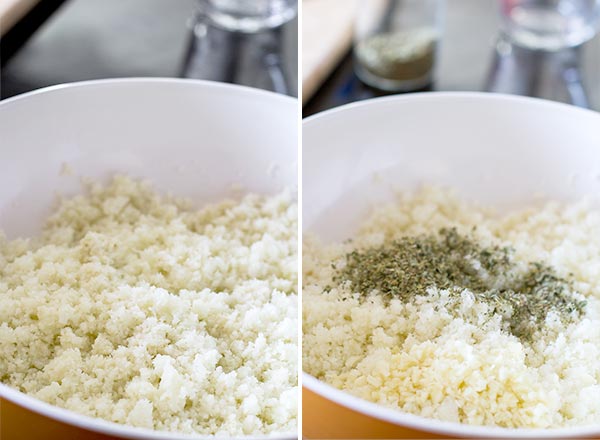 This thing was so easy to make, it's not even worth writing about. Throw the cauliflower in a food processor for a couple of swirls and then microwave it on high for 10 minutes. Then add eggs, spices and cheese (see recipe) and shape it into a crust; bake for 25 minutes then add the rest of the cheese (I used TexMex) and put it back in the oven for another 5 minutes or until the cheese has melted.
All that's left is to enjoy it, is that fast and simple. Have fun!
Ingredients
4 cups of riced cauliflower (about 1 large head of cauliflower)
4 eggs
2 cups of mozzarella cheese (I used a Tex Mex blend because that's all I had)
3 tsp oregano
4 cloves garlic, minced
salt and pepper to taste
1 to 2 cups mozzarella cheese (for topping)
Preparation Instructions
Preheat oven to 425° F / 220° C. Prepare 2 pizza dishes or a large baking sheet with parchment paper.
Make sure your cauliflower is roughly chopped in florets. Add the florets to your food processor and pulse until cauliflower resembles rice.
Place the cauliflower in a microwavable container and cover with lid. Microwave for 10 minutes. Place the microwaved cauliflower in a large bowl and add the 4 eggs, 2 cups of mozzarella,oregano, garlic and salt and pepper. Mix everything together.
Separate the mixture in half and place each half onto the prepared baking sheets and shape into either a pizza crust, or a rectangular shape for the breadsticks.
Bake the crust (no topping yet) for about 25 minutes or until nice and golden. Don't be afraid the crust is not soggy at all. Once golden, sprinkle with remaining mozzarella cheese and put back in the oven for another 5 minutes or until cheese has melted.
Serve hot!