Cherry Clafoutis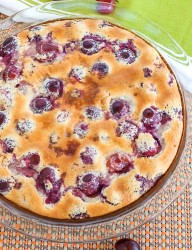 1 lb (450g) Cherries
½ cup Flour
¼ tsp Salt
½ cup Sugar
1 tsp Vanilla Extract
4 Eggs
1 ½ cups Half and Half Cream
1 tsp Butter, pie dish buttering
Preheat oven to 375° F / 190° C.
Boil the half and half cream, add the vanilla to it and set it aside.
In a small bowl mix the flour and salt together.
In the bowl of your mixer, add the 4 eggs and sugar and beat well until it thickens and the batter is a pale yellow.
Slowly add the flour to the batter and continue mixing.
Add the half and half mixture and swirl well.
Pour the batter over the cherries and bake for about 45 minutes or until golden brown and the center is cooked through.
Sprinkle with powdered sugar if preferred.