Apricot Clafoutis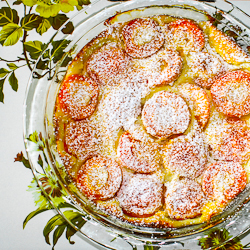 9 Apricots, normal size
â…" cup All Purpose Flour
6 tbsp Sugar
2 tsp Rum
1 tsp Vanilla Extract
1 tsp Lemon, zest
2 Eggs
¾ cup Heavy Cream
dash of Salt
powdered Sugar for dusting
Cut the apricots in half and remove their pits.
Preheat oven to 350° F / 177° C.
Place the apricot halves on the bottom of a pie dish.
In a blender add the flour, sugar, rum, vanilla extract, lemon zest, eggs, salt and heavy cream. Blend everything together so that it makes a nice thin batter.
Pour the clafoutis batter over the apricots.
Bake for about 45 minutes until the center is set.