Chicken and Feta Pizza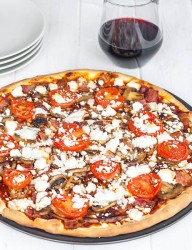 ½ cup BBQ Sauce or Pizza Sauce
1 Chicken breasts, cut into stripes
4-6 Bacon strips
2 cup Feta Cheese, crumbled
3 Campari Tomatoes, sliced
Season your chicken with salt and pepper then fry or bbq in a bit of oil.
Fry the bacon then chop it up.
Preheat oven to 500° F / 260° C.
After rolling out the pizza dough, add the sauce by spreading it evenly on top of it.
Add the feta cheese, then the chicken. Finish it off by adding the bacon and some slices of tomatoes.
Bake for about 15-20 minutes.