Peach Pizza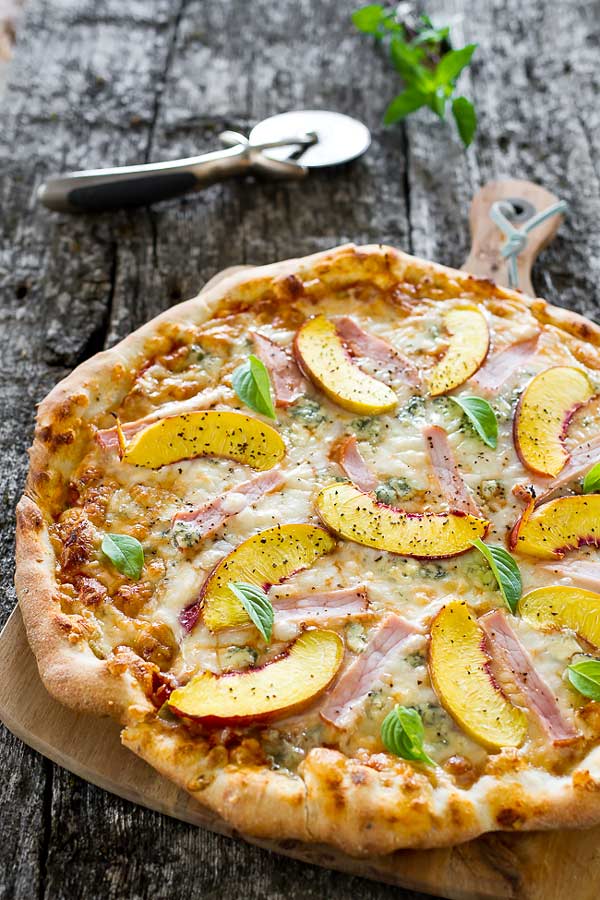 ⅓ piece of this Easy Pizza Dough Recipe
1 teaspoon extra-virgin olive oil
½ cup (2 oz) shredded mozzarella cheese
2 to 3 oz Canadian back bacon, sliced or whatever
1 oz crumbled Gorgonzola cheese or any other blue cheese if you don't like this one
1 medium unpeeled peach, thinly sliced
a bunch of Thai basil leaves
Preheat oven to 500° F / 260° C.
Roll out the dough and place it on a pizza tray. Brush with 1 tsp extra virgin olive oil and top evenly with shredded mozzarella cheese then Canadian bacon, Gorgonzola and peach slices..
Bake for 10 minutes or until the crust goes brown. There is also the option of baking it for 5 minutes without the peach slices and then add those in the last 5 minutes of baking but is a matter of choice, I really loved mine roasted.
Season with loads of pepper and add few basil leaves. You can also sprinkle some balsamic reduction or you can serve it the way it is. Since I am a dude, I used some Frank's Red Hot Sauce here and there and it was amazing.