Berry Cheesecake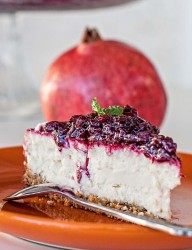 3 cups Graham Crackers
¼ cup Sugar
½ cup Butter, melted
28 oz (800g) Cream Cheese
4 Eggs
¾ cup Sugar
3 tbsp Flour
¼ cup Milk
1 tbsp Lemon zest
1 tsp Vanilla Extract
1 cup Blackberries
1 cup Raspberries
1 cup Pomegranates, seeds
½ cup Sugar
2 tbsp Water
Preheat oven to 350° F / 175° C.
In a food processor, add the crackers, melted butter and sugar and mix & grind them as fine as you want. Take the mixture and spread over the bottom of the cheesecake pan, pressing down to cover the entire area going a little bit up the side. Place pan in the fridge while you're making the filling.
Filling – add the cheese, sugar and flour and swirl for two minutes on medium speed. Scrape down the sides of the mixing bowl, then add the remainder of the ingredients and mix again on medium for another minute or so. Filling should be very smooth.
Pour the filling in the pan over the crust from second step, and bake in the oven for 15 minutes. After that turn the oven down to 250° F / 120° C and keep baking for another hour and a half. When done, let it cool for about an hour then let it rest for another couple of hours inside your refrigerator... I know, I was guarding my fridge too.
Topping – Add the ingredients to a sauce pan and cook over low/medium heat for 15 to 20 minutes or until the sauce thickens up. Easy!
After cheesecake and topping are completely cooled, pour the topping on top of the cheesecake and be ready to fight the rest of the family for a slice.